Name: Yoshihiro Togashi
Birthplace: Japan, Yamagataken
Birthdate: April 27, 1966
Zodiac sign: Taurus
Blood Type: A
Favorite Food: Rice with curry
Family: He's the middle child, with an older sister, and a younger
brother.
Marital Status: Married Takeuchi Naoko on January 6, 1999
His Ceations:
(I'm) Not Afraid of Wolf!
Wicked Cupid/ Tend e Shou Waru CUPID
Yu Yu Hakusho
Level E
Hunter X Hunter
Others about him and Naoko:
# They had their honeymoon in spain and turkey. Other than that, dunno.
# Their anniversary of their first date was on nov 19
# Their first kiss (hehe) Nov 27
# They had their engagement on Aug 21, 1998
# Moonlight Densetsu was played on their wedding day.

That's it! That's all i know! Thanks Van-kun for the valuable info.
Oh...Um... if some of you out there who would like to share more info
about Togashi-san...please do!!! And if there are any corrections,
please do!!!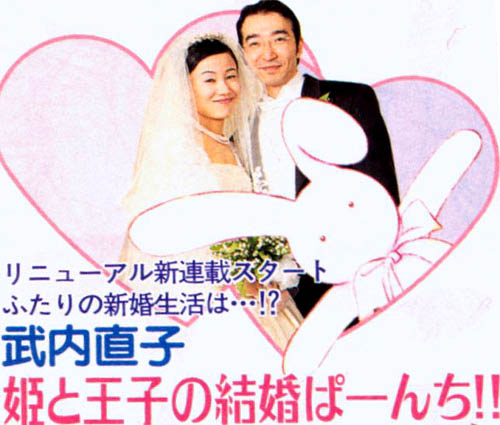 SUGOI, SUGOI!!!!! Awedding picture of Togashi-sama and his wife Naoko-sama!!!!!